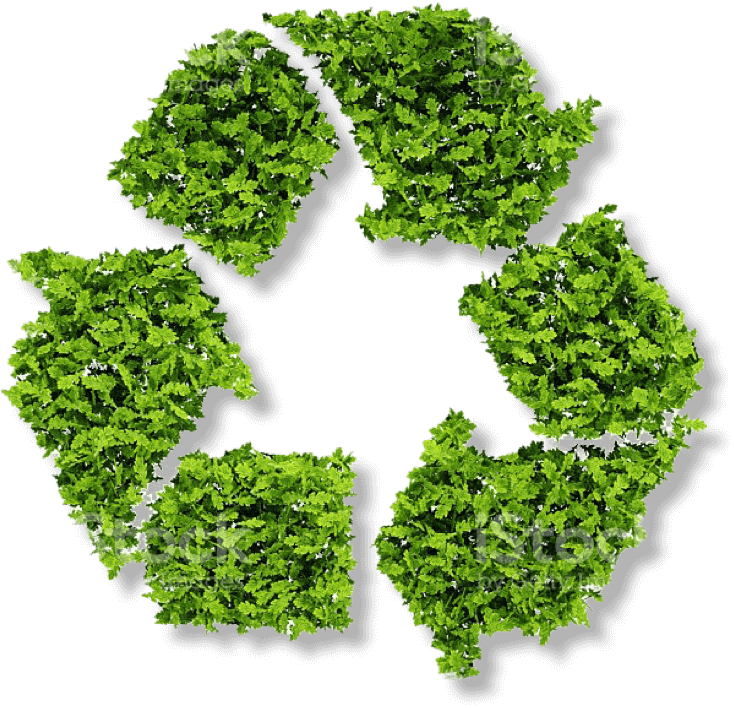 The Plastic Crisis:
A Real Problem
We're taking Action
We know the plastic crisis is one of the top sustainability issues facing the world today.
We're taking this crisis seriously - ensuring 100% of Nestle packaging will be reusable or recyclable by 2025.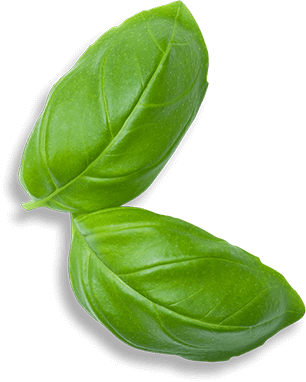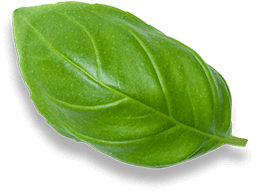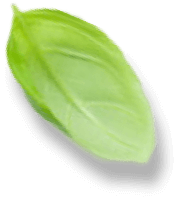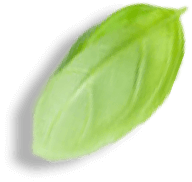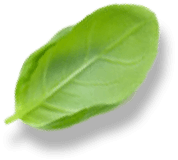 Globally, we saved more than 142,000 metric tons of packaging in 2019 compared to 2015. That's 14 Eiffel Towers!

A Good Start
Making 100% of our packaging recyclable or reusable is a good start, but we know there's a lot more work to do to achieve our vision: that none of our packaging ends up in landfill or as litter, including in our oceans, lakes and waterways.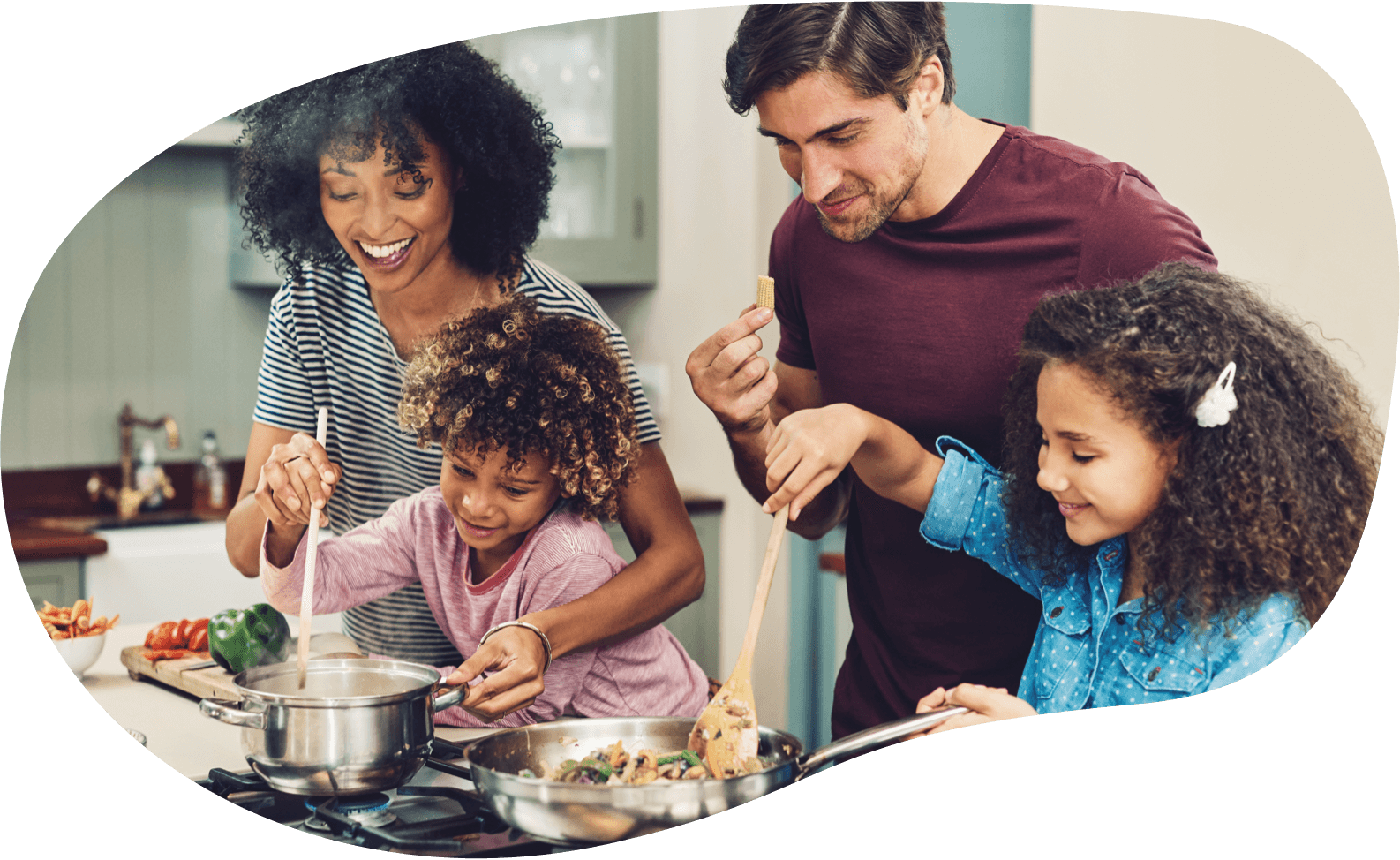 100%
recyclable or reusable packaging by 2025
87%
of our packaging is already recyclable or reusable (2019)
Our Sustainability Highlights Since 2019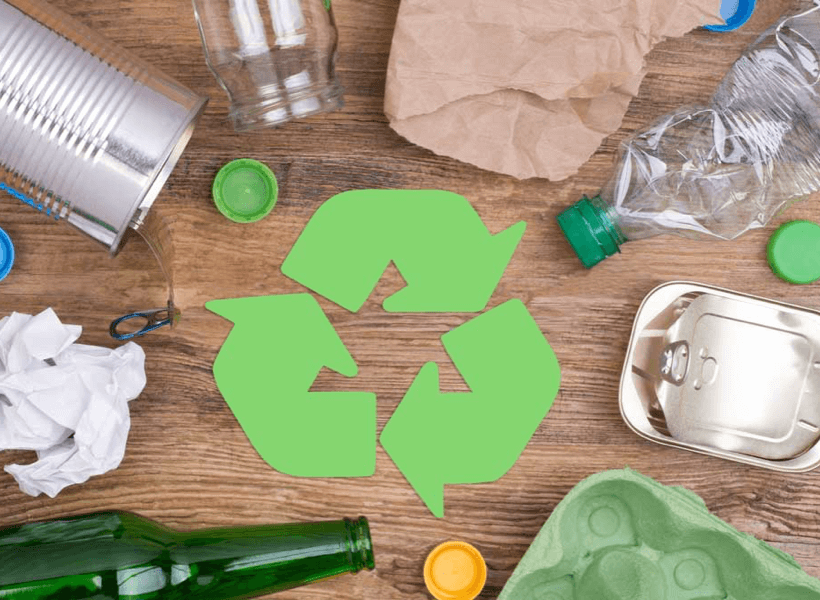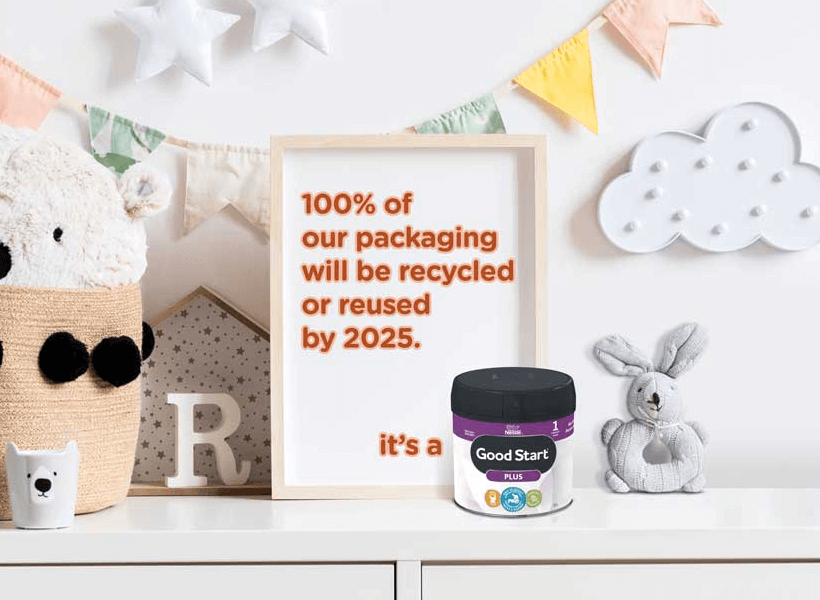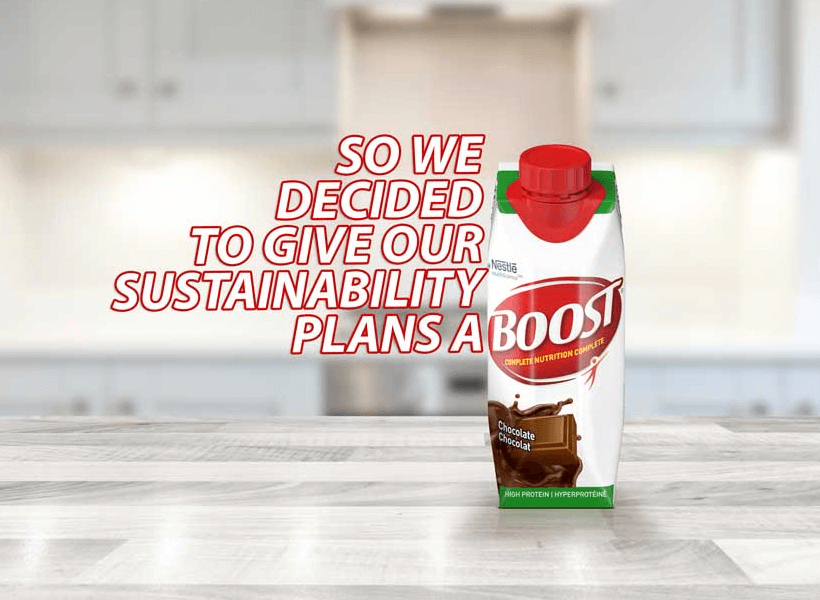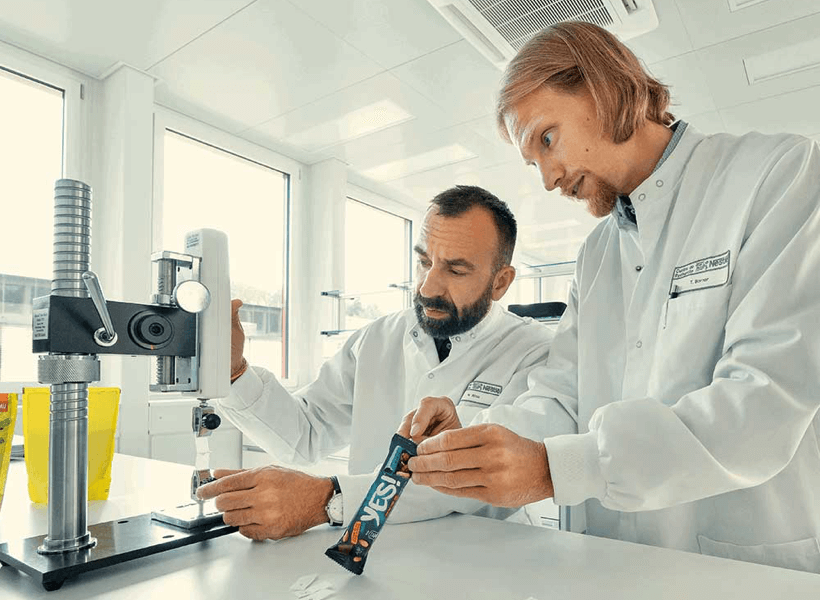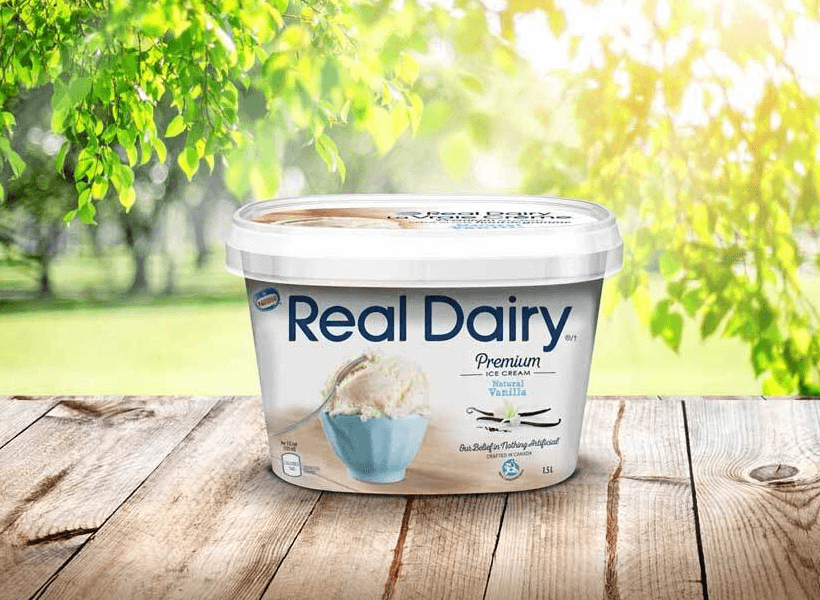 2019
87% of our packaging is now recyclable or reusable.
Good Start: Moved instant formula product to a recyclable can.
All BOOST® ready-to-drink 237ml meal replacement drinks (High Protein, Original, Plus Calories and Diabetic) have moved to recyclable, reclosable Tetra® Prisma packaging.
Globally, we created the Institute of Packaging Sciences to help bring environmentally-friendly packaging solutions to consumers.
Nestle Real Dairy Ice Cream is one of the first recyclable ice cream containers in Canada.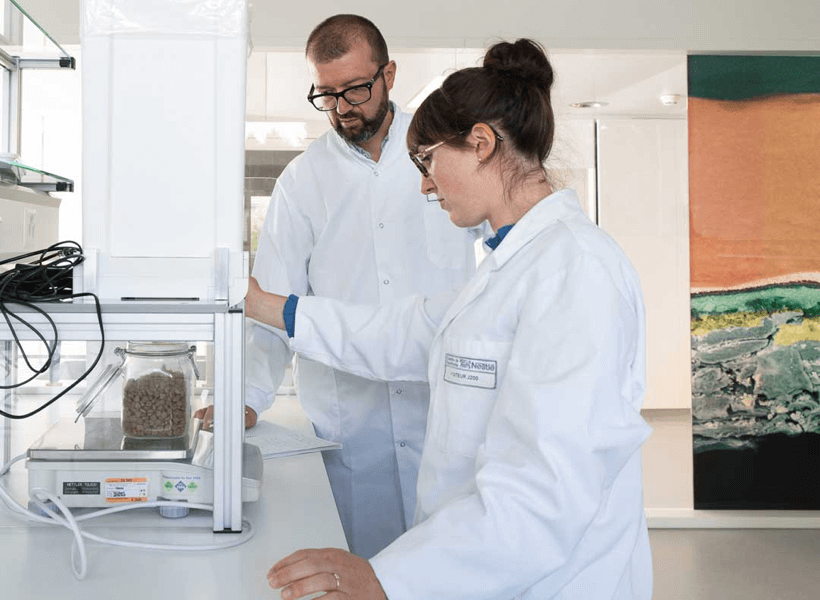 2020
Globally, we announced $2.8 billion to lead the shift from virgin plastics to food-grade recycled plastics and accelerated the development of innovative packaging solutions.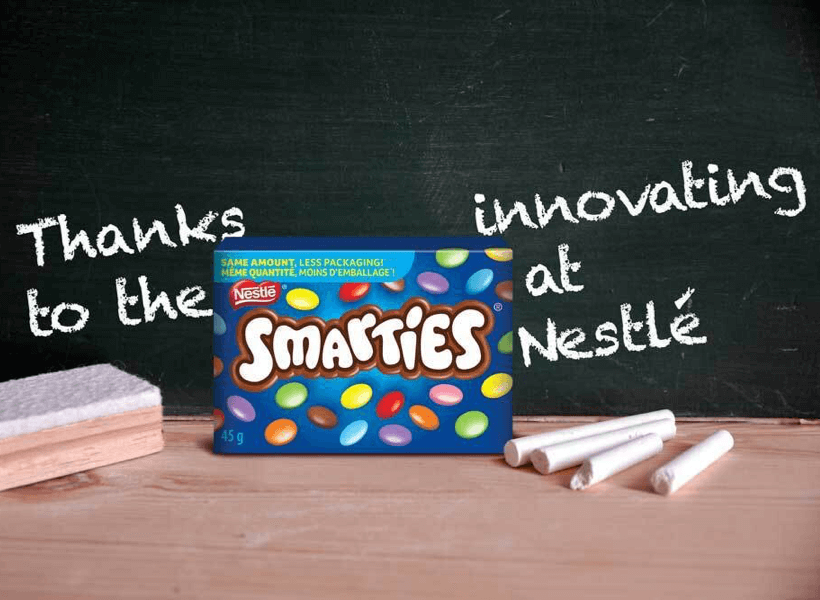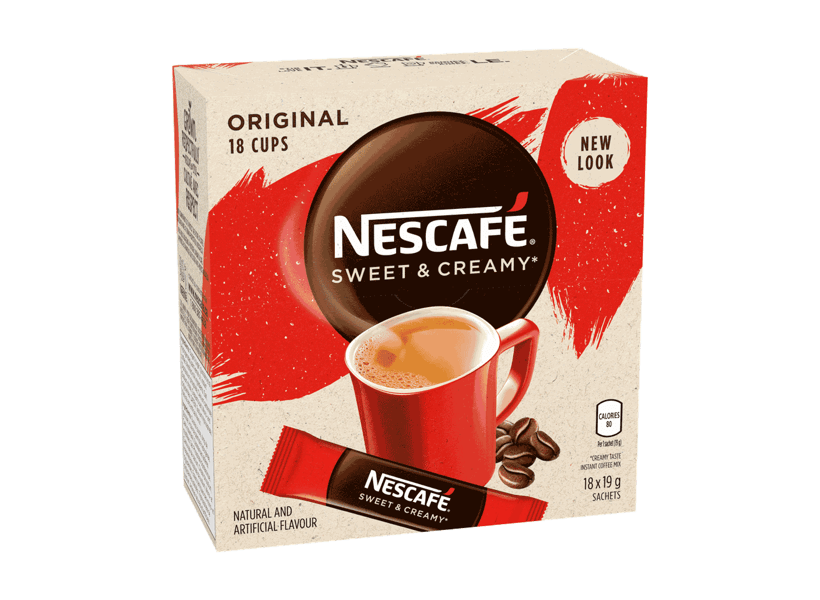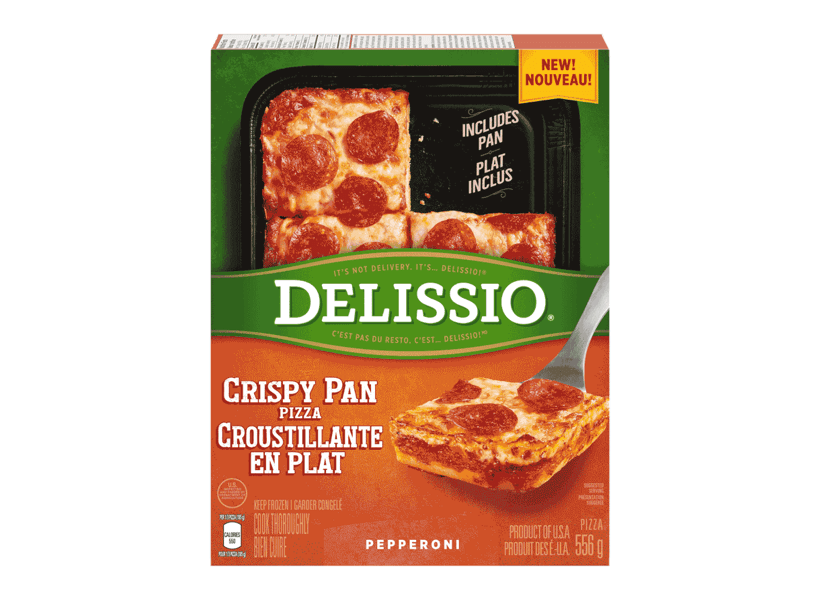 2021 and beyond:
All Smarties packaging will remove plastic material from its portfolio and fully transition to responsibly sourced paper in 2021.
In 2021, Nescafe Sweet & Creamy will move from plastic to a recyclable carton.
Moving Delissio Crispy Pan trays into recycle ready packaging, making all Delissio packaging 100% recyclable or recycle ready!
Talking With Our Smarties: Q&A
Plastic Packaging Explained
Recycling Solutions
Making Recycling Easier
Plastic Packaging Explained
All of our packaging protects food, prevents food waste and ensures the quality and safety of our products. We use a range of materials including glass, metal, paper and plastics, and each decision is carefully considered.

Plastics are uniquely malleable, available, hygienic, lightweight, strong and safe, which makes them ideal for packaging. We have made considerable progress in both minimizing the amount of plastic used to pack products safely and recovering plastic at the end of its useful life. But we know there is more to do as we work towards a waste-free future.
Recycling Solutions
We have introduced a 'Negative List' of non-recyclable or hard-to-recycle materials and a timetable to phase out their use across all of our packaging. We have started to eliminate plastics across a range of materials in our ice cream, confectionery and beverages businesses, and reduced the amount of shrink-wrap we use. We are leading the shift from virgin plastics to food-grade recycled plastics. Aside from PET (Polyethylene Terephthalate), most recycled plastics are not suitable for food packaging, leading to a limited supply of food grade recycled plastics.
We are working with local suppliers as well as the Nestle Institute of Packaging Sciences. Together we are developing and evaluating new materials that are sustainable and can be supported in our recycling infrastructure.
The seven major focus areas for our scientific work on plastics:
Packaging-free solutions
Removal of non-recyclable plastics
Simplification of materials and packaging structures
Plastic-free packaging / paper
More recycled content
Bio-based plastics
Biodegradable / compostable materials
We also launched a $360 million sustainable packaging venture fund focusing on start-up companies that are developing innovative packaging, refill systems or recycling solutions. In September 2020, we announced a $43 million investment in the Closed Loop Leadership Fund.
Plastic water bottles are 100% recyclable. With our aim to reduce the use of virgin plastics by one-third by 2025, Nestle will increase the amount of recycled PET it uses across its brands globally to 50% by 2025.
It's a two-year pilot program which gives 20,000 customers in London, Ontario the opportunity to bag up plastic items that can't currently be recycled, like chocolate bar wrappers and potato chip bags. Nestle Canada is proud to be one of the financial contributors to this interim plastic recovery solution, as we continue to work on ways of innovating our packaging for a waste-free future.
Through the Nestle Institute of Packaging Sciences together with our global R&D network, universities and innovation partners. The Institute will conduct world-class research to fundamentally rethink packaging materials which include exploring the potential of bio-sourced, and biodegradable materials and systems.
Making Recycling Easier
Globally, our overall recycled plastic content use is currently 2%. (We use 5% recycled content in our PET water bottles.) And we are committed to increasing the proportion of recycled content we use in our packaging where possible and continue to explore all opportunities to create and obtain sufficient volumes of food-grade quality recycled content. This includes our investment of more than $2.16 billion to pay a premium for these materials and our commitment to source up to 2 million metric tons of food-grade recycled plastics between now and 2025.
By working collaboratively with industry, local and national governments, NGOs and consumers alike. Plastic packaging is often not disposed of properly or cannot be recycled. We are determined to help change this, which is why we are:
Taking action to improve waste collection systems
Making our own packaging completely recyclable
Making recycling an easy thing to do for consumers
Helping take an active role in improving recycling systems where we operate
We're committed to raising consumer awareness through educational campaigns and improving the clarity of recycling messaging on our products and packaging.
"As the worlds largest producer of food and beverage, our vision is a future where none of our products end up in nature, and where the products that Canadians know and love, contribute to a healthy future for the generations to come. With our global footprint and vast supply chains, we understand the severity of climate change and we have made significant commitments and investments in climate initiatives to reduce our carbon footprint."
- John Carmichael, Nestle Canada CEO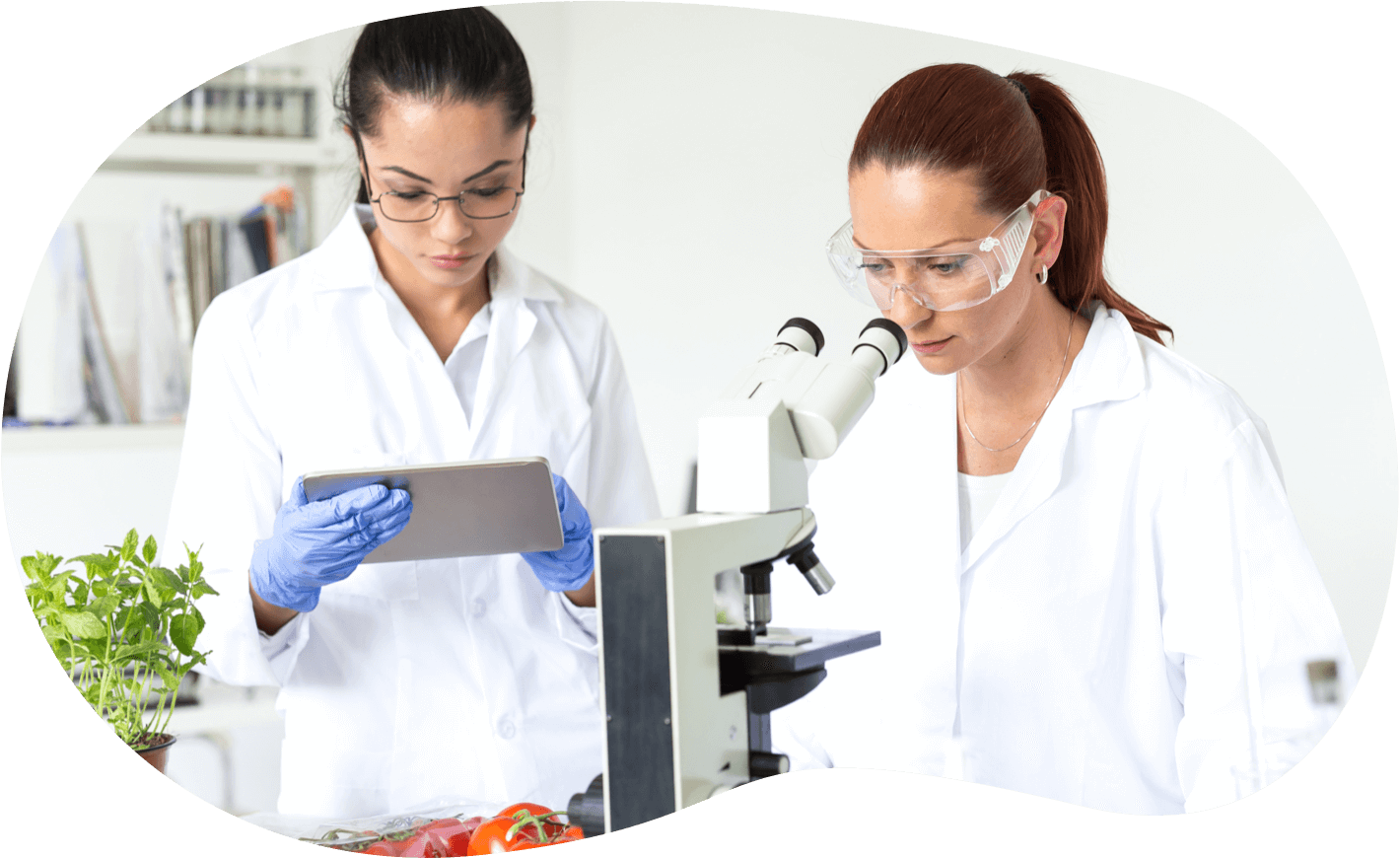 Now in more sustainable packaging
Plastic packaging plays an important role in safely delivering high-quality food and drinks to consumers, and in reducing food loss and waste. Thats why we carefully consider alternatives before making changes to our packaging.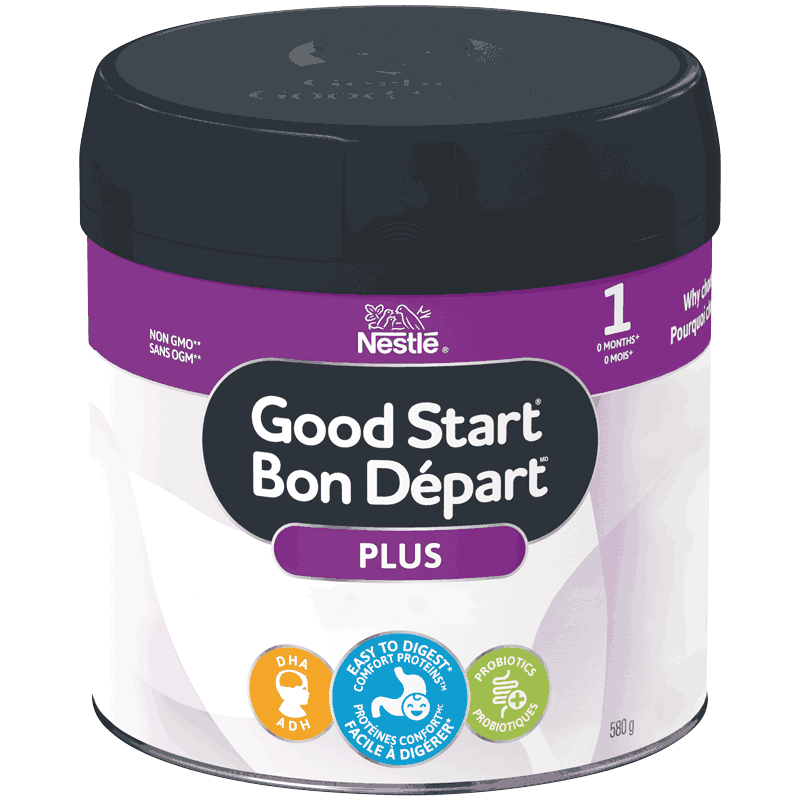 Good Start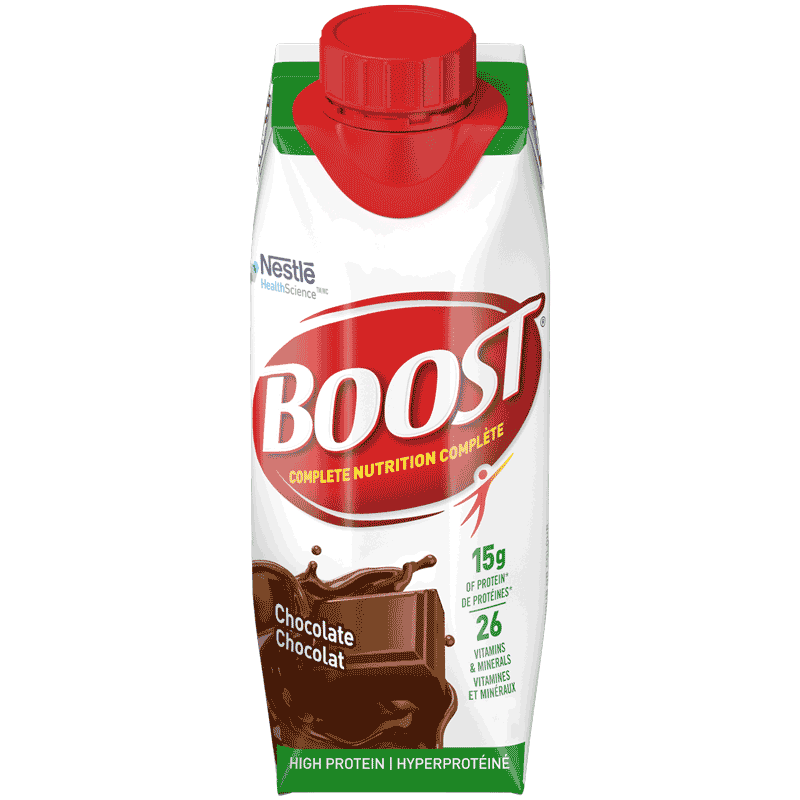 Boost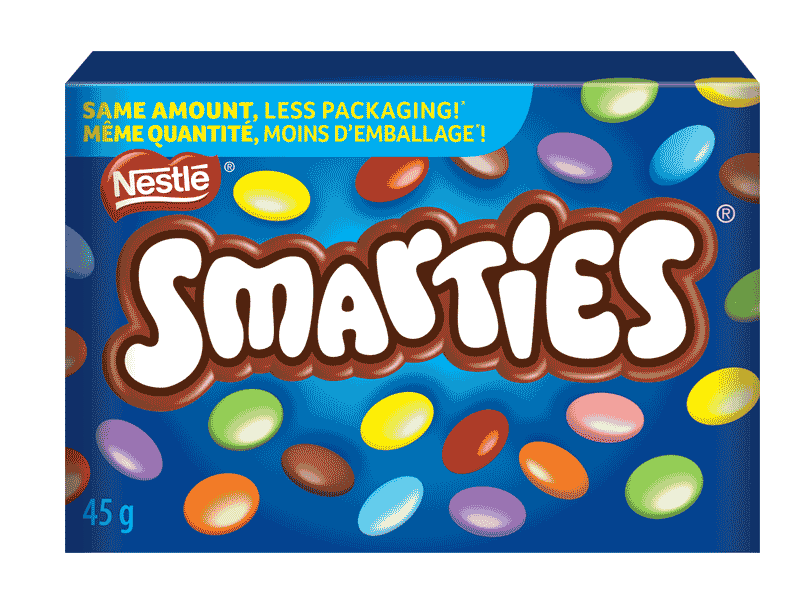 Smarties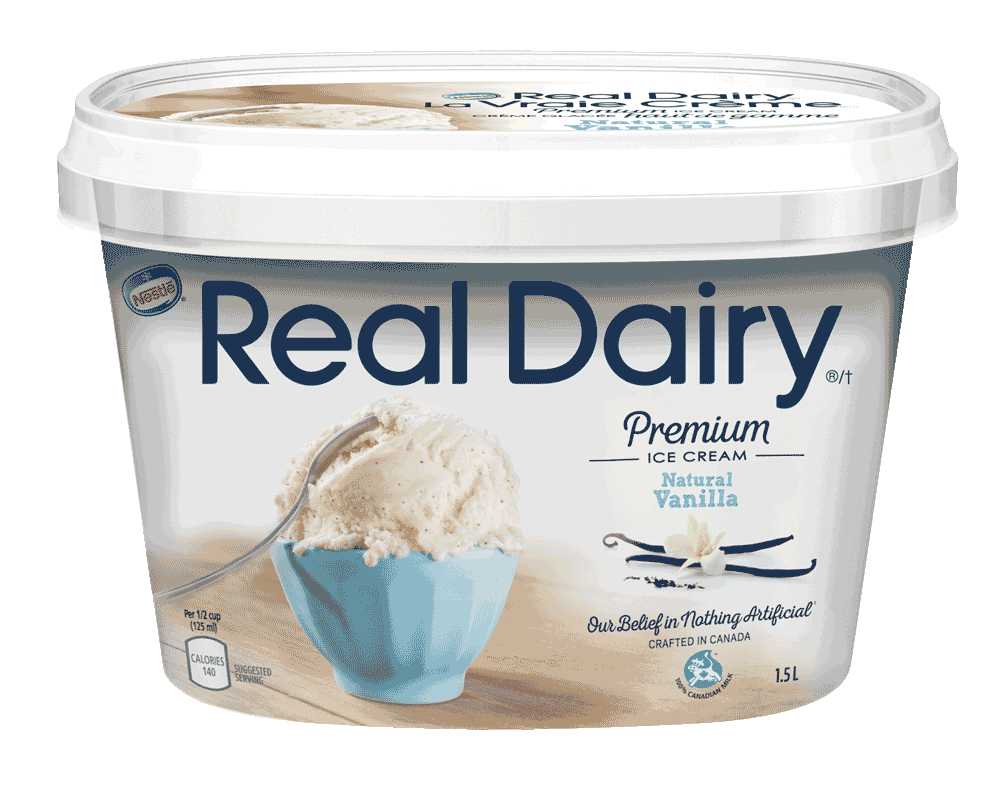 Real Dairy Ice Cream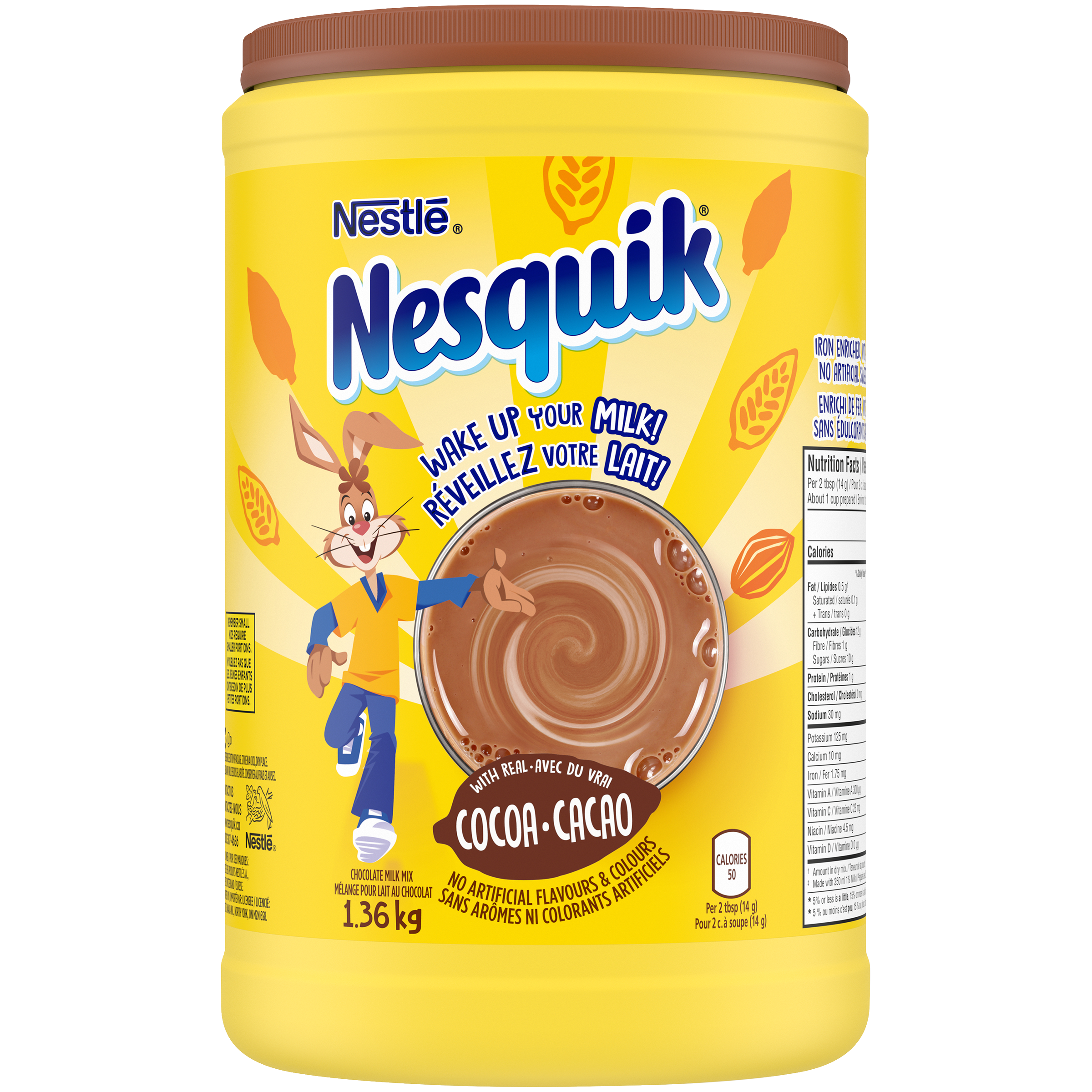 Nesquik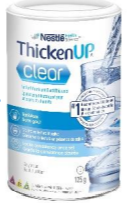 Thicken up