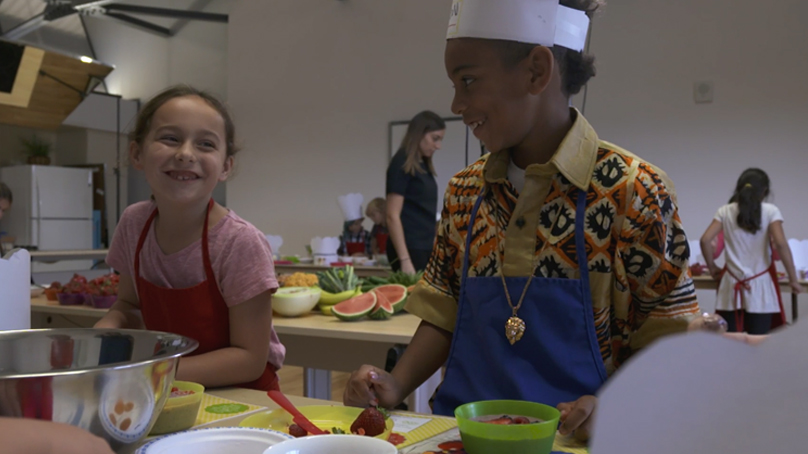 International Chefs Day at the Nestlé Learning Lab
Wednesday, December 02, 2020
On October 20, Nestlé Canada celebrated International Chefs Day by treating kids to a workshop about the importance of delicious and nutritious food! Students from grades 2 and 3 gathered in the Nestlé Learning Lab at the Canada Agriculture and Food Museum where they were encouraged to eat new and nutritious foods in a fun and creative way. They even created their own 'Art on a Plate'! The workshop was co-led by Registered Dietitian Julia DiCesare, Nestlé Nutrition Specialist, and our very own Canadian Corporate Chef, Adam Cowan, Nestlé Professional.
Led by Julia and Adam, our little guests got to be chefs for a day. Topped with personalized chef's hats, they learned how to make healthy food choices while they discovered, measured, and mixed healthy ingredients to create a delicious smoothie bowl and yogurt veggie dip. You and your family can make these yummy dishes at home! Print out our recipe placemat and guide your child through the simple steps.
Globally, Nestlé's Healthy Kids Program and World Chefs partnered to create these healthy recipes and activities for kids through similar workshops around the world. The Nestlé Healthy Kids Global Program is part of our commitment to increase children's awareness, knowledge, and understanding of the impact of healthy eating and physical activity on their health. Download the Healthy Kids Quest educational program for fun learning activities to share with your kids!