Our Simplest Recipe*
BOOST Simply+ is a balanced blend of protein, energy, vitamins and minerals that you can feel good about choosing, with 60% less sugar** and no added colours, flavours or preservatives. 

+ lactose & gluten free
+ high in fibre
+ source of omega-3 polyunsaturates
*vs. Other BOOST ready to drink
**vs. BOOST Original 
Click for more information
Do you know how much protein you need?
Calculate how many grams of protein you may need every day
Take the quiz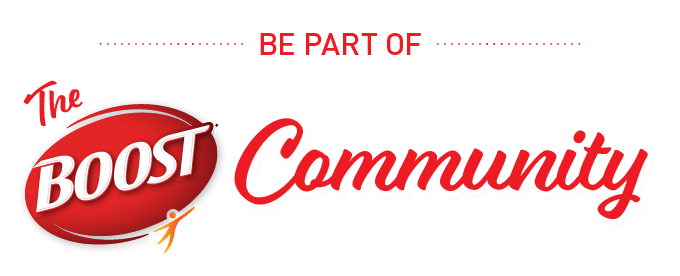 Be the first to know about the latest BOOST® products,
great reads from topics like fitness, weight management
and vitality, awesome recipes to fuel your lifestyle
and exclusive offers




"Wow!!! I've tried protein powders before, but this one stands head and shoulders above the rest! Most of the ones I've had before always taste a bit funny in a smoothie, but this one didn't alter the taste at all."
"It has low calories for those watching their weight but has tons of protein! I'm super impressed with the product and enjoy it daily in my smoothie now!"
"I have a hard time eating in the morning for some reason and always skip breakfast, so these shakes are perfect for me."
"Up to a few weeks ago I wasn't eating and my boyfriend picked these up for me. Gosh, what a life saver! I was actually surprised at how yummy they tasted."
"Boost is great, the taste is great, you feel great and have lots of energy because of all of the vitamins and minerals. It is excellent and i think everyone should have one in the morning every day."