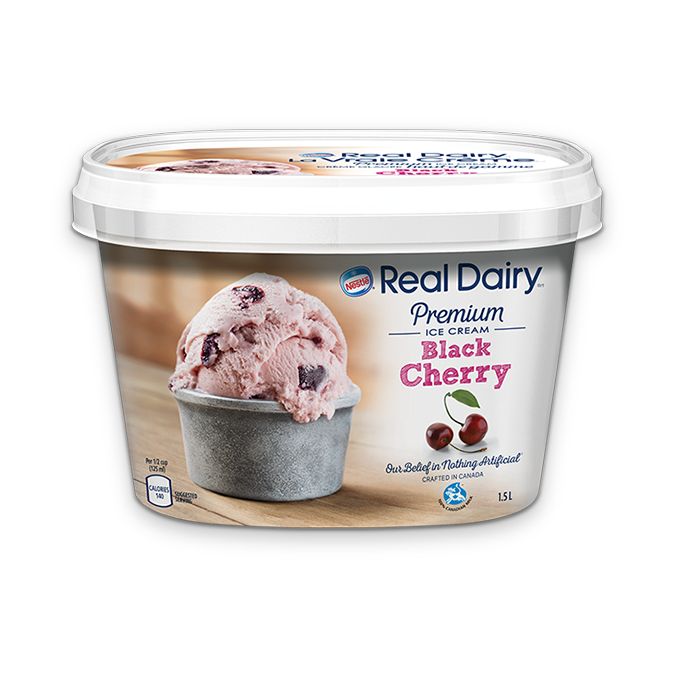 REAL DAIRY Cherry
Cherries plucked from the tree create a delicious ice cream that's ripe for the picking.
Features and Benefits
Nutrition Information
Ingredients
REAL DAIRY Cherry
Features and Benefits
No artificial colours, prepared from natural sources

No artificial flavours

Made with simple ingredients such as fresh cream, eggs and sugar

Crafted in Canada
Description
Features and Benefits
REAL DAIRY Cherry
Nutrition Information
In the event of any discrepancy between the information listed on this website and on each individual package, please refer to the information listed on package.
REAL DAIRY Cherry
Ingredients
,
modified milk ingredients
,
,
,
,
,
,
,
,
,
,
,
.
.
May contain peanuts and tree nuts.
REAL DAIRY Cherry
is rated out of
5
by
12
.
Rated

1

out of

5
by
DaveT
from
Product has lost its appeal !
Couldn't wait to get back to Canada to get some honest to goodness black cherry ice cream. What a major disappointment- no where near the same ice cream we had last fall before heading south. So far, in consuming about half the container, we have yet to find enough little chunks of cherry to make one whole cherry! There are more cherries In the picture on the container than there are in the whole 1.5L. I don't pay a premium price for mediocre product. Cost cutting never rewards the end user. Now, mind you, they could have an employee trying to sabotage the company by picking all the cherries out during production. LOL
Date published: 2018-05-26
Rated

2

out of

5
by
Brendanahan baggins
from
Has decent amount of cherries
The flavor profile is rather odd ...this ice cream actually tastes like marzipan? Not sure who let this get out nestles door ; but they clearly didn't taste test this product. I expected a nice rich black cherry taste . Disappointing at best . I agree with the other poster about the odd medicine like taste ...perhaps this should be marketed as cough syrup flavor .
Date published: 2017-01-03
Rated

1

out of

5
by
Prairievoice
from
Taste like medicine
I regulary buy real dairy ice cream, vanila, chocolate. I love cherries so thought to give cherry flavour a try but when I ate it, to me it tasted like medicine. My children refused to eat it at all.
Date published: 2016-07-27
Rated

2

out of

5
by
Nachi 75
from
Lack of cherry instead of black cherry
I used to like your brand that seemed to have entire cherries, it seems there's less cherries and especially of late, now reduced to shredded tiny bits. If only I could go back a few years... off to another brand. Like so many that keep reducing quantity and now quality.
Date published: 2018-04-15
Rated

5

out of

5
by
twibs
from
Yummy
Very cherry! Very creamy! Very delicious! Don't complain that it tastes like cough medicine...It's not that cherry tastes like cough medicine; it's the other way around - cough medicine tastes like cherry, so don't blame the product for tasting the way it's supposed to!
Date published: 2017-11-06
Rated

4

out of

5
by
Anonymous me
from
Creamy with chunks of cherries
I bought this earlier this week and was surprised with the size and amount of cherries. Plenty of cherries at least in the 2 servings consumed. Yummy! Will purchase again. Although I do wish Nestle had not discontinued the white and dark chocolate real dairy :(
Date published: 2018-06-01
Rated

5

out of

5
by
Klam
from
Full of cherries
Surprisingly my tub was filled with lots of cherries. And not just cherry pieces but full or half sized cherries. Surpassed my expectations. Also not too sweet. Would buy again.
Date published: 2017-06-27
Rated

4

out of

5
by
Catrina
from
Ok.
I bought this at Walmart. It was alright, tastes like natural cream but doesn't have that rich dark cherry taste. Also there were barely any cherry bits in it.
Date published: 2017-01-04