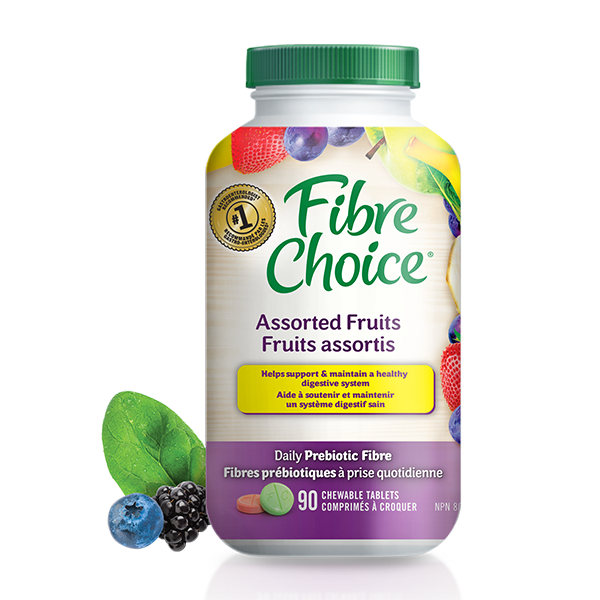 Fibre Choice® Assorted Fruits
Fibre Choice® chewable tablets are a delicious and convenient prebiotic fibre natural health product you can keep and take anywhere.
ASSORTED FRUIT FLAVOURS: 90 CHEWABLE TABLETS
Strawberry
Grape
Green Apple
Features and Benefits
Nutrition Information
Ingredients
Instructions
Fibre Choice® Assorted Fruits
Features and Benefits
Source of fiber for the maintenance of good health

Helps support and maintain a healthy digestive system.

Helps stimulate the growth of healthy bacteria (such as bifidobateria) in the intestine.

Prebiotic.

Helps provide gentle relief of constipation and irregularity.

Gluten free
Description
Features and Benefits
Fibre Choice® Assorted Fruits
Nutrition Information
In the event of any discrepancy between the information listed on this website and on each individual package, please refer to the information listed on package.
Fibre Choice® Assorted Fruits
Ingredients
MEDICINAL INGREDIENT
Inulin (
Cichorium intybus
 L. – root (
) |2 g
NON-MEDICINAL INGREDIENTS
,
,
,
,
,
,
,
,
, FD&C red no.
, FD&C blue no.
, FD&C blue no.
, FD&C yellow no. 5 aluminum lake
Fibre Choice® Assorted Fruits
Instructions
Adults: Chew 2 tablets up to 3 times per day. Start with 2 tablets and gradually increase up to 6 tablets. To minimize potential stomach discomfort, take with meals.

CAUTION Hypersensitivity has been known to occur. May cause mild gastro-intestinal discomfort such as gas, bloating, cramps. Consult a healthcare practitioner if
■ symptoms worsen or if laxative effect does not occur within seven days
■ you are taking medications which inhibit peristaltic movement
■ you have symptoms such as abdominal pain, nausea, vomiting or fever
■ you are experiencing a sudden change in bowel habits that has persisted for more than 2 weeks, undiagnosed rectal bleeding, or have failed to defecate following the use of a laxative product.

KEEP OUT OF REACH OF CHILDREN.
Store below 25°C. Keep the container tightly closed.

Security Feature: Do not use if inner seal beneath the cap is missing or broken.
Tablets may contain dark speckles due to the manufacturing process of natural ingredients.