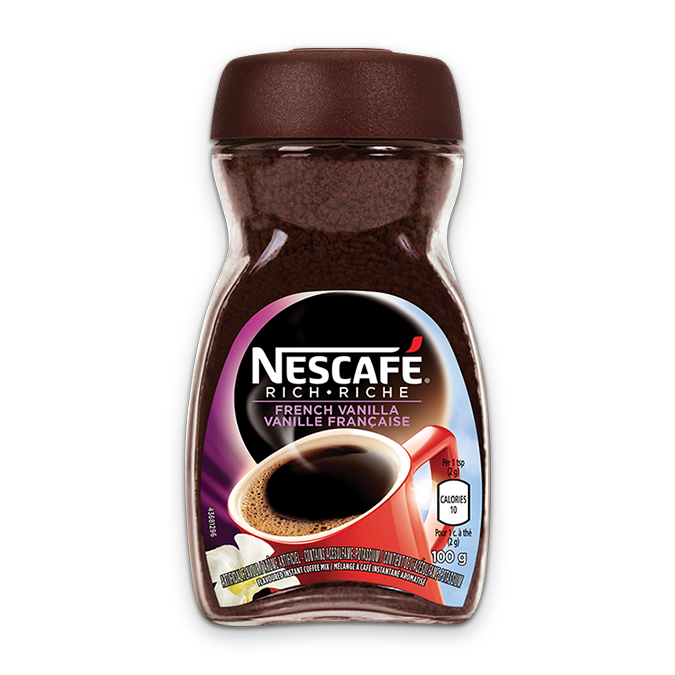 NESCAFÉ Rich French Vanilla
Two classics combined. Our full-bodied Rich with the delicious flavour of French vanilla.
Shop Now
Features and Benefits
Nutrition Information
Ingredients
NESCAFÉ Rich French Vanilla
Features and Benefits
Only 10 calories per serving
Description
Features and Benefits
NESCAFÉ Rich French Vanilla
Nutrition Information
Not a significant source of other nutrients.
In the event of any discrepancy between the information listed on this website and on each individual package, please refer to the information listed on package.
NESCAFÉ Rich French Vanilla
Ingredients
,
,
flavour and artificial flavour
, acesulfame-potassium (
) .
NESCAFÉ Rich French Vanilla
is rated out of
5
by
31
.
Rated

1

out of

5
by
Damian
from
Tastes worse, smaller packages.
I've been buying this coffee for years and recently it was changed to a 100g bottle and on average its actually been increased in price in grocery stores. I'm indifferent to the taste change but overall I'm disappointed that I'm expected to pay even more for even less, a whole third less now. I'm going to finish this 100g bottle and probably start brewing my own coffee with cinnamon again. Nestle can start getting money from me again when they decide to adjust the prices to compensate for the smaller bottles, or pull a 180 and go back to the size that I - and many others have become accustomed to.
Date published: 2016-04-29
Rated

2

out of

5
by
Lara
from
Smaller and tastes different
I have been drinking French vanilla Nescafé for over 10 years. It's the ONLY coffee I drink and everyone knows me for that. Most recently I found that the packaging is smaller (100g vs 150g) but the price is still the same. I've also noticed that the taste is different. It seems bitter and I find myself adding more sugar than usual. I see that I'm not alone in this discovery and hope you will listen to your customers and go back to the old recipe. Thanks
Date published: 2016-04-14
Rated

2

out of

5
by
X1Jed1Cofey
from
Disappointed with new blend
I am disappointed with the new blend of French Vanilla flavour in Nescafe's Rich series of instant coffee. I was quite happy with the previous blend, it was the only flavour that removed the bitterness of the beans; not so with their latest change of ingredients. I am not making the coffee any different, this is instant coffee we're talking about here. It's a different taste which I'll just describe as relatively more bitter compared to previous. If you still have the previous blend, try it yourself side-by-side. It's not a question of getting used to it, I just don't like bitter coffee. It's not a taste I can look forward to in the morning. I wish they considered that not everyone enjoys the same tastes.
Date published: 2016-01-03
Rated

1

out of

5
by
Frankie 96
from
Sad very sad
I've been drinking your French vanilla coffee for a number of years but thats about to stop what ever you did to this coffee is bad so bad I can't even drink it and at the price we pay for your coffee well it can't be good for your coffee sales so sad time to go back to something else I never wrote to complain about something for now because I really likeed your coffee SAD
Date published: 2016-03-31
Rated

3

out of

5
by
Disappointed
from
OK but.....
This was going to be my choice for instant coffee. Like the flavor but once again size matters. When I first purchased this coffee the jar was 150 grams now it is 100 grams so I have to buy 3 jars to get the some amount as 2. The regular coffee is now 170 grams down from 200 grams. Switching to another instant coffee for this reason. Very disappointed.
Date published: 2016-04-30
Rated

4

out of

5
by
cheryl
from
love vanilla
the one review is cut off including the response? I love this flavour although it has changed and seems to be a little weaker - but that's the name of the game right for big corp - give less change the pkg charge more!
Date published: 2016-02-06
Rated

1

out of

5
by
Villem2
from
New Blend isn't any good!
I have recently bought a new jar of FV instant coffee and thought it was a bad batch. I returned it in exchange for a new one. After trying the new one I realized Nescafé had changed the taste of the blend. It's horrible! Very bitter (not in a good way!) Bring back the old one! I've been drinking this blend for years. I only recently had to buy a new jar because I had stocked up over a year ago when there was a good sale. I wish I would've had more from the previous blend!
Date published: 2016-02-23
Rated

1

out of

5
by
France Gaudet
from
Déçu
je suis vraiment déçu que le contenant de 150 gr a été changé à 100gr et ce, pour le même prix ... mon mari et moi étions de vrai consommateur de ce produit mais nous n'aimons ce faire avoir de cette façon, il ne faudrait quand même pas nous prendre pour des idiots ... nous finirons nos pots respectifs et changerons pour, je ne sais quoi mais Nescafé, c'est terminé pour nous. merci de l'attention que vous porterez à ce message.
Date published: 2016-06-28